---
---
---
Why do tech companies choose our agency to maximize their HubSpot portal?
When it was time to migrate our CRM to HubSpot, we spoke with several different agencies but Kiwi Creative was the clear winner for the project. We knew we could count on them to understand our business and our customers to help us implement our CRM in a way that would help us to manage our business in the best way.
Tammy, Content Marketer
Equidox
---
For us, there's no one-size-fits-all approach to HubSpot onboarding.
We'll take your goals and develop a customized training plan to teach you how you to use your portal like the pros.
---
Are you an enterprise-level company looking to implement HubSpot?
We can help you navigate your complex requirements to seamlessly implement—and integrate—the CRM platform.
---
Stop users from going rogue and causing chaos in your HubSpot portal.
We can deliver customized platform training to large, diverse teams with the goal of driving user adoption.
Our HubSpot Agency, By the Numbers
years as a Platinum HubSpot partner
HubSpot agency accreditations
5-star reviews in the HubSpot Directory
individual HubSpot certifications
Real HubSpot clients. Really impressive results.
---
---
---
How we supercharge HubSpot portals
System analysis

Migrating or overhauling your CRM is a big initiative.

To make sure we're all on the same path forward, we need to analyze your current systems and process, both inside of HubSpot and out.

Here's what happens during the system analysis phase:

Identify key stakeholders
Define business requirements
Document existing sales processes
Audit existing technology stack
Examine data quality

Solution design

Make HubSpot support your processes, not the other way around.

Before we touch a single button in HubSpot, we need to define how the tool will support your existing business processes.

Here's what happens during the solution design phase:

Define lifecycle stages and

ᅠlead scoring criteria

Define custom contact, company and deal properties

Define teams, permission sets, presets and partitioning rules

Define email subscription types

Define GDPR requirements

Define lead notification and assignment flows

Define pipeline and deal stage requirements

Define KPIs and appropriate reports

Create an app integration strategy

Solution implementation

Now's the time to actually log into HubSpot to start set up.

With a strategic plan in place for how to use the tool to support your existing business processes, we can begin to import data and customize your portal.

Here's what happens during the solution implementation phase:

Clean and import data
Customize lifecycle stages
Set up lead scoring
Create custom contact, company and deal properties
Set up user permissions and content partitioning
Create email subscription types
Implement GDPR requirements
Create forms and notification workflows
Set up multiple pipelines and customize deal stages
Create reporting dashboards
Connect apps

Risk mitigation plan

Minimize the risks associated with changing platforms.

When migrating to a new system, the chance of error can be frightening. That's why we plan ahead to prevent common headaches, like bad data, incorrect permissions and broken notifications.

Here's what happens during the risk mitigation phase:

Merge duplicate records
Populate missing data
Perform a delta migration
Confirm opt-in permissions
Test form notifications
Confirm user permissions and team assignments
Check data syncing to outside apps

User training

We've set you up for HubSpot success…now run with it!

HubSpot isn't meant to be used solely by your agency of record. It's a valuable tool for employees in sales, marketing, service and beyond.

Let us teach your team:

Topics relevant to sales reps, including how to:

Enter new contacts into the CRM
Create a deal and progress it through the pipeline
Log calls and notes
Complete or reschedule tasks

Topics relevant to managers, including how to:

Add new users to teams and remove/change permissions

Build custom reports

Set up process-based workflows

Structure lead and referral sources
Introducing our HubSpot Action Plan
How effectively are you using your HubSpot portal?
Our HubSpot Action Plan will supercharge your inbound marketing campaigns and sales outreach by showing you how to use HubSpot's software to its full potential.
The best news? This isn't some generic checklist—you'll get a customized action plan in just one week for $1,500.
Learn More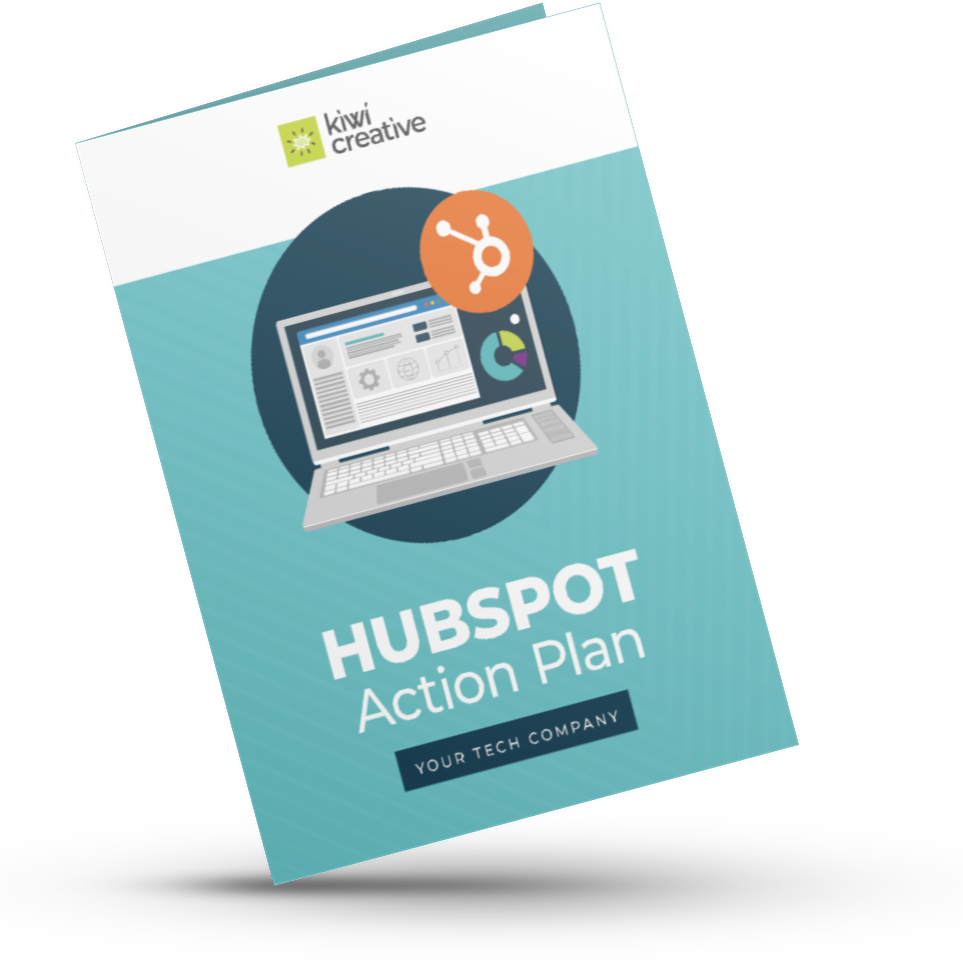 Let's work together to solve your HubSpot challenges
Need ongoing, strategic support?
If you need a long-term HubSpot expert who will act as an extension of your marketing team, we suggest a retainer relationship.
We'll help you define goals, create a customized game plan and report on results every month.
With a retainer, you'll enjoy:
A strategy that balances quick wins with long-term planning
A "point pricing" model to ensure you get the full value of every dollar spent, regardless of how many hours it takes to deliver
Flexible contracts that can increase/decrease at any time
Month-end reporting to review performance and make adjustments
Regularly scheduled check-ins with your Account Manager
First-priority access to our team of subject matter experts
Log-in creds for our easy-to-use online project management portal
Explore Retainer Pricing
Have a one-time project?
If you need help with a single HubSpot initiative (like onboarding or user trainings), we suggest working with us on a project basis.
We'll help you define a clear scope of work, set payment terms and wrap up work by the specified deadline.
With project-based work, you'll get:
A traditional client/vendor relationship
A clearly defined scope of work
A flat-rate quote (though sometimes it's easier to bill hourly)
An Account Manager to act as your main point of contact
Access to our team of subject matter experts
Log-in creds for our easy-to-use online project management portal
Explore Project Pricing
---
---
---
Why do companies choose our agency to maximize their HubSpot portal?
Kiwi Creative was such a joy to work with—they're serious HubSpot gurus! Between answering our questions, going above and beyond to look into problems, or making helpful suggestions, their approach made using HubSpot easy and exciting for our team.
Jessica, Digital Project Manager
Recycle Coach
Use HubSpot to its fullest potential
Let our team of marketing ops experts show you how to squeeze more value from your HubSpot subscription.
Get started