Looking to get more value out of your HubSpot portal?
We're pretty obsessed with all things HubSpot, especially helping our software and tech clients clean up data, maximize tools usage, set up integrations and report on results.
If you're brand-new to HubSpot, we can assist with account set up, onboarding and training. (We're part of the official Partner Scaled Onboarding Program at HubSpot.)
Or, if you're an existing HubSpot user, we can help you supercharge any (and all!) of your hubs: Marketing, Sales, Service, Operations, CMS and CRM.
After all, each product in the platform is powerful alone, but the real magic happens when you use them together.
We're accredited by HubSpot to teach companies how to use their brand-new HubSpot portals.
We're accredited by HubSpot to implement the CRM platform with global, enterprise-level clients with complex requirements.
We're accredited by HubSpot to deliver customized platform training to large, diverse teams with the goal of driving user adoption.
New account set up
Data clean up and migration
Custom property creation
Reporting dashboards
Salesforce syncing
Integrations
List segmentation
Lifecycle stages
Lead scoring
Deal stage creation
User/team permissions
Technical configurations
Emails
Landing pages
Social media
Blogs
Campaigns
CTAs
Forms
Live chat/chatbots
Workflows
Lists
A/B testing
Revenue attribution reporting
Playbooks
Sequences
Quotes
Deal pipelines
Lead scoring
Meetings
Snippets
Sales Templates
Call Tracking
Task Automation
Pipeline Automation
Forecasting
Help desk automation
Tickets
Knowledge base
Feedback surveys
Customer portal
Service analytics
SLAs
Conversation intelligence
Channel switching
Sandboxes
Custom objects
Mobile optimization
A/B testing
Landing page templates
Dynamic content
Multiple languages
Membership pages
Custom modules
Content staging
Content search
Pillar pages
Contact attribution reporting
Adaptive testing
Salesforce
SurveyMonkey
Zoho
Zoom
GoToWebinar
Eventbrite
Shopify
PandaDoc
Sakari
Calendly
Slack
And more!
Real HubSpot clients…really impressive results
Experiencing any of these HubSpot challenges? We can help.
You're brand-new to HubSpot and need help setting up your portal and training team members.
You've been spending a ton on subscription costs, but are only using a handful tools within your portal.
Your data is a mess and doesn't sync correctly to/from outside platforms, making reporting a nightmare.
You want deeper insights into your prospects and pipeline to help you close deals faster.
You want to create content, capture leads and nurture them until they're sales-ready.
You want to improve RevOps by aligning people, data and processes through technology
Featured Resource
Get the White Paper
Featured Project
Learn how we were able to save AmpliFund hours every week by redeveloping their HubSpot website to cut their page build time in half.
Read the Case Study
How do we partner with our clients on HubSpot initiatives?
Need ongoing, strategic support?
If you need a long-term HubSpot expert who will act as an extension of your marketing team, we suggest a retainer relationship.
We'll help you define goals, create a customized game plan and report on results every month.
With a retainer, you'll enjoy:
A practical strategy that balances quick wins with long-term planning
A "point pricing" model to ensure you get the full value of every dollar spent, regardless of how many hours it takes to deliver
Flexible contracts that can increase/decrease at any time
Regularly scheduled check-ins with your Account Manager
Access to our easy-to-use online project management portal
Month-end reporting meetings to review results and make adjustments
Retainer Pricing
Have a one-time project?
If you simply need help getting a new HubSpot portal up and running—or have just a couple items on your to-do list—we suggest working with us on a project basis.
We'll help you define a clear scope of work, set payment terms and wrap up work by the specified deadline.
With project-based work, you'll get:
A traditional client/vendor relationship
A clearly defined scope of work
A flat-rate quote (though sometimes it's easier to bill hourly)
An Account Manager to act as your day-to-day point of contact
Access to our easy-to-use online project management portal
Project Pricing
Introducing our HubSpot Action Plan
How effectively are you using your HubSpot portal?
Our HubSpot Action Plan will supercharge your inbound marketing campaigns and sales outreach by showing you how to use HubSpot's software to its full potential.
The best news? This isn't a generic checklist…you'll get a personalized action plan in just one week for $1,500.
Learn More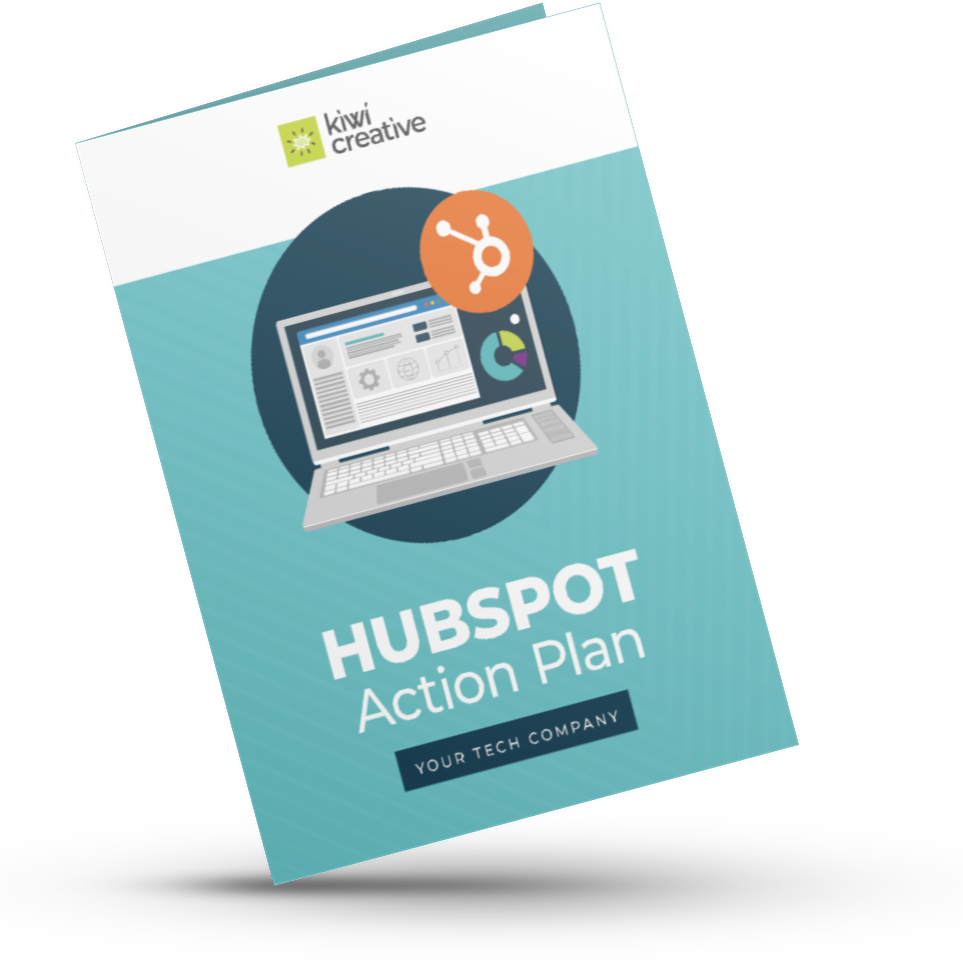 Why do tech companies love working with us on HubSpot projects?
I trust Kiwi to create strategy and then execute branding, content, SEO and advertising for us with minimal input or supervision. You guys run our marketing department from your wild green office and I love it.
Kyle, Chief Revenue Officer
BuyerQuest
Our Accolades, Accreditations & Affiliations