The Challenge
BuyerQuest is an enterprise procure-to-pay software that competes with massive organizations, like SAP and Oracle. While BuyerQuest has a superior product and big-name customers, they were struggling with relatively low brand recognition in their space, especially when compared to their publicly-traded competitors.
When searching for a marketing agency, BuyerQuest was looking for a HubSpot expert and true partner to help them tell a compelling story, generate leads and define meaningful KPIs. Kiwi Creative checked off all of those criteria and has evolved into their agency-of-record, leading the marketing efforts for a fast-growing company.
The Solution
Having never worked with an outside agency before, BuyerQuest wanted to start with a smaller project to validate cultural fit and expertise. Trust was quickly earned and they signed up for a full website redesign within a month of onboarding.
BuyerQuest built their original website internally, but it lacked the overall marketing-focused strategy needed for lead gen. Working through our website process, we created a streamlined sitemap, user-focused wireframes and a dark mode design—all with the purpose of educating the visitor and driving them to convert. Built on HubSpot's CMS, the newly revamped website not only looks beautiful, but also acts as a guided storytelling tool to help prospects select the right solution.
After the website launched, BuyerQuest decided to 2.5x their investment into a marketing retainer with our agency. This additional spend allowed us to dig deeper into a variety of digital tactics, heavily targeted at driving lead generation via their new site.
We've led an SEO-driven content strategy that involves writing conversion-optimized copy for social posts, ads and more, while also supplementing efforts with blogging and premium content.
To nurture existing leads as well as new leads, we built out a suite of email templates and workflows within HubSpot.
There are several variations of landing pages that include traditional content downloads or a short demo video, but the coolest is the custom-built interactive ROI calculator, which generates a PDF report of potential savings based on indirect spend and number of employees.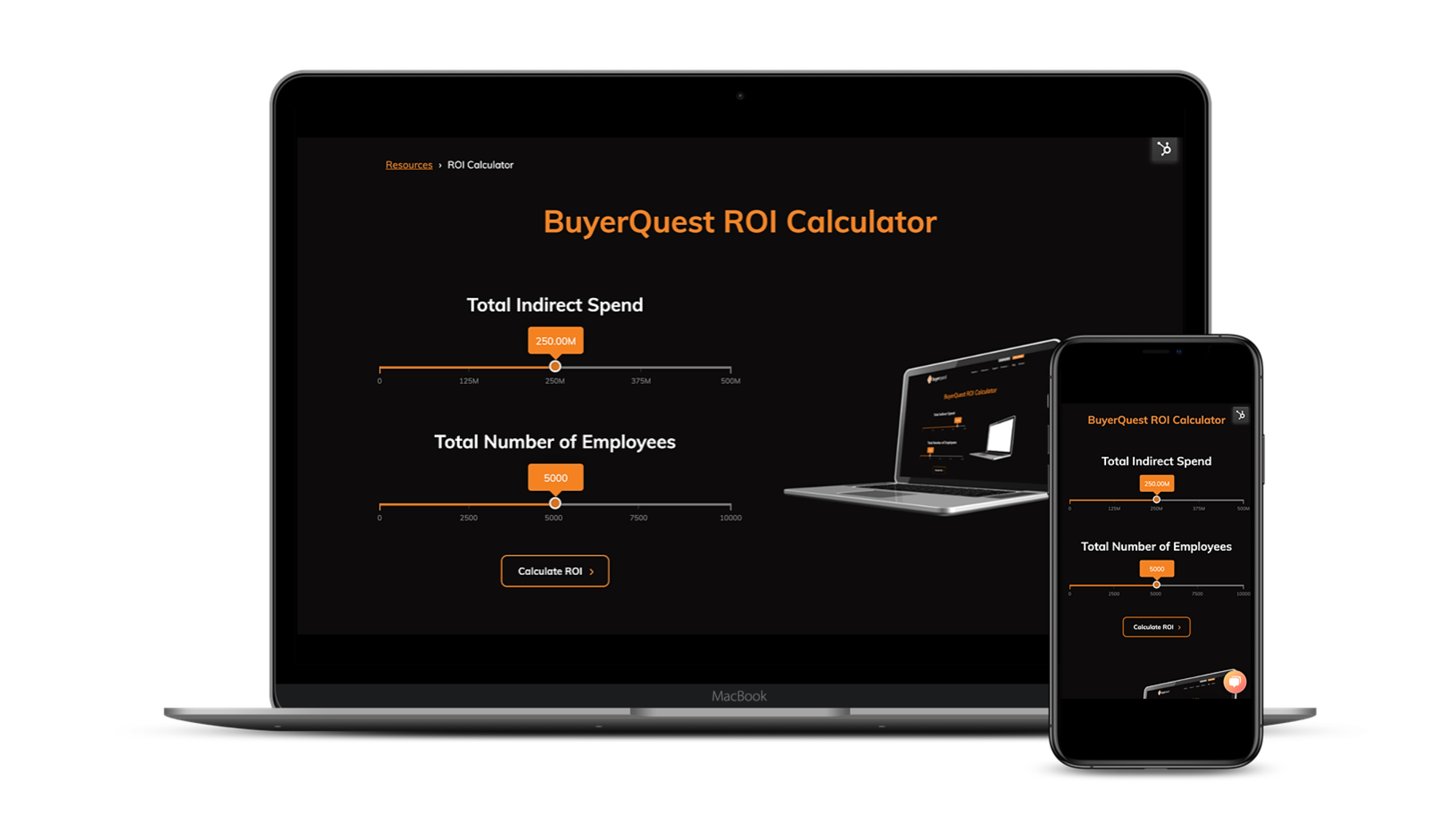 The Outcome
Two months after launch, the revamped HubSpot website saw a 31% increase in new visitors and a 52% increase in page views. The biggest gains came from organic search traffic (up 82%) where we saw a 169,786% increase in impressions on SERPs (299K vs. 176 impressions YoY) and increased their average SERP spot by 25.3 positions—close to three pages.
Email marketing stats also skyrocketed, with a 72% increase in open rate and a 113% increase in email clicks.
On social, we were also able to increase Twitter followers by 225% with a $100/month ad spend and LinkedIn followers by 60% from organic methods.
Hear from our happy client…
I trust Kiwi to create strategy and then execute branding, content, SEO and advertising for us with minimal input or supervision. You guys run our marketing department from your wild green office and I love it.
Let us drive results at YOUR tech company
Partner with our full-service digital marketing agency to exceed your goals.
Get Started