We help enterprise-level customers with HubSpot CRM implementation
As a partner agency accredited in HubSpot CRM Implementation, we have first-hand experience successfully implementing the HubSpot CRM platform with large, global, enterprise-level customers with complex requirements.
In addition to having advanced product-level knowledge, this means we're well equipped to handle change management, project management, project planning and communication during CRM migration and implementation.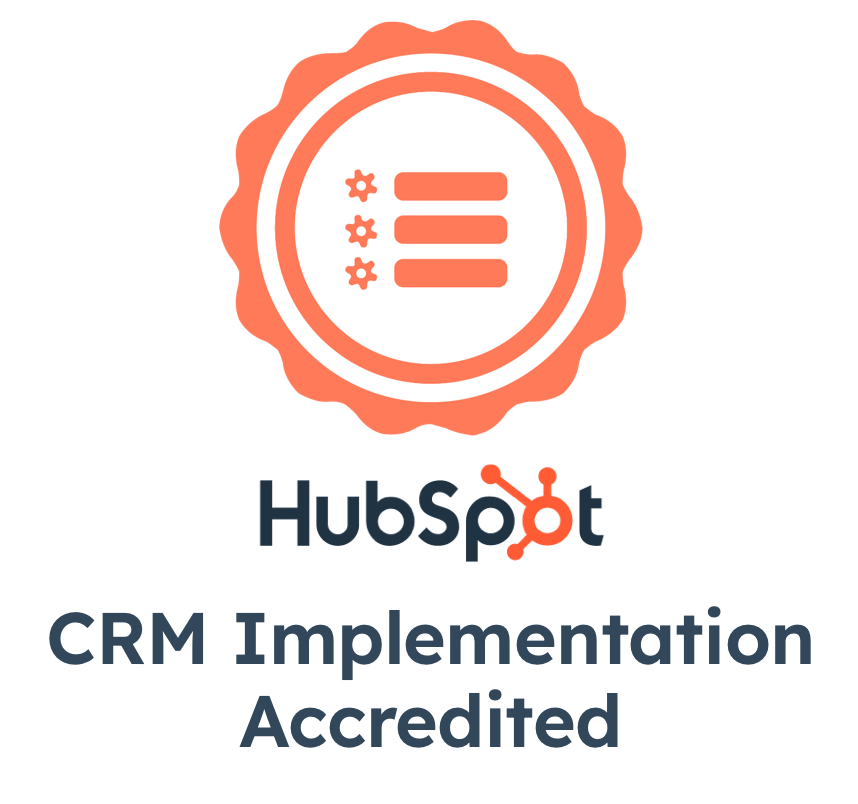 Our CRM Implementation Process
Identify key stakeholders
Define business requirements
Document existing sales processes
Audit existing technology stack
Examine data quality
Define lifecycle stages and

lead scoring criteria

Define custom contact, company and deal properties

Define teams, permission sets, presets and partitioning rules

Define email subscription types

Define GDPR requirements

Define lead notification and assignment flows

Define pipeline and deal stage requirements

Define KPIs and appropriate reports

Create an app integration strategy
Clean and import data
Customize lifecycle stages
Set up lead scoring
Create custom contact, company and deal properties
Set up user permissions and content partitioning
Create email subscription types
Implement GDPR requirements
Create forms and notification workflows
Set up multiple pipelines and customize deal stages
Create reporting dashboards
Connect apps
Merge duplicate records
Populate missing data
Perform a delta migration
Confirm opt-in permissions
Test form notifications
Confirm user permissions and team assignments
Check data syncing to outside apps
Topics relevant to sales reps, including how to:

Enter new contacts into the CRM
Create a deal and progress it through the pipeline
Log calls and notes
Complete or reschedule tasks

Topics relevant to managers, including how to:

Add new users to teams and remove/change permissions

Build custom reports

Set up process-based workflows

Structure lead and referral sources
Ready to implement the HubSpot CRM platform?
Why do companies love working with us to implement HubSpot CRM?
Being completely new to HubSpot, it was quite overwhelming learning all the capabilities and functions of it. There were so many things, I wouldn't have had any idea of where to start. Kiwi Creative took us through each one step by step. Everyone was always upbeat, kind and patient with us! Highly recommend to anyone.
Kathryn, Marketing Coordinator
LCRA
Our Accolades, Accreditations & Affiliations